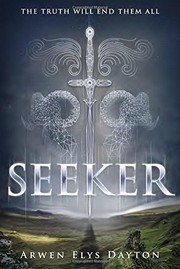 SeekerArwen Elys Dayton; Delacorte Press 2015Amazon•Goodreads•Google Books 
Disclaimer: I received an advance reader's copy (ARC) of this book from NetGalley in exchange for my honest review. All opinions expressed are my own, and no monetary compensation was received for this review.
This book had me hooked almost immediately. Magical powers, a love triangle, a secret ritual after completing training… I had no idea what a seeker was, and I needed to find out. Turns out, not even the main character knew, and when she found out, she knew she couldn't go on doing things the way they'd been done for centuries. So she fought back.
This story has a lot of black & white, but doesn't skip on the grey areas in between, which I like. The decisions made by the main characters were believable, and I liked that even some of the antagonists had good intentions (or at least good reasons for going along with it).
I don't want to go into too much detail, so I'll leave it there, and add that I'm very much looking forward to book 2 when it comes out.